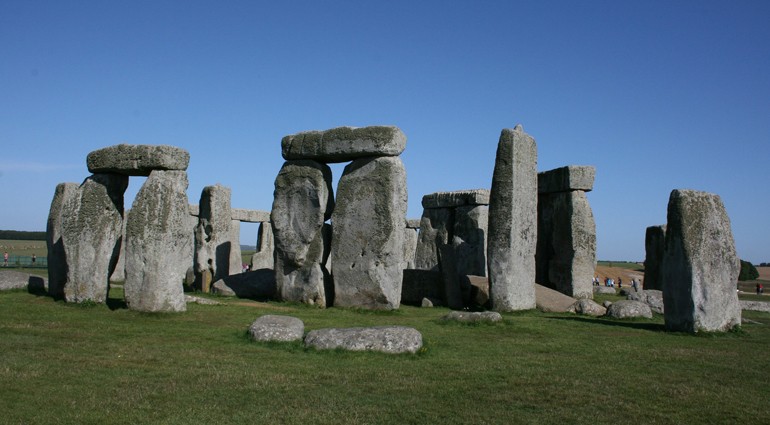 " />
But God demonstrates His own love for us in this: While we were still sinners, Christ died for us. Since we have now been justified by His blood, how much more shall we be saved from God's wrath through Him! For if, while we were God's enemies, we were reconciled to Him through the death of His Son, how much more, having been reconciled, shall we be saved through His life! Romans 5:8-10
One of the most popular tourist attractions in England is the giant stone pillars of Stonehenge. These massive pieces of granite are also a great source of mystery. Every year, people travel to Stonehenge with questions such as: Why were they erected? Who accomplished this extraordinary engineering marvel? And perhaps we wonder most of all how they did it. But visitors leave having received no answers from the silent stones. The mystery remains.
The Scriptures speak of a much greater mystery—the fact that God came to live among us as a man. Paul wrote in 1 Timothy 3:16, And without controversy great is the mystery of godliness: God was manifest in the flesh, justified in the Spirit, seen of angels, preached unto the Gentiles, believed on in the world, received up into glory.
This brief overview of the life of Christ—the mystery of godliness—is remarkable. What prompted the Creator of the universe to come and live and die for His creation, however, is not a mystery. "But God demonstrates His own love toward us in this: While we were still sinners, Christ died for us." Romans 5:8.
Insight: God's great love for us is
at the root
of the mystery of godliness, and the cross has made it plain for all of us to see. How Christ became a human being may be a mystery, but God's love is not!
Reader's Prayer: Lord, I may not understand everything You have done for me, or how You have done it. But I know You love me and sent Jesus to die for me, and that is all I need to know You more and more each day as my Lord and my Savior. In Jesus' Name, Amen
_________________
1958 DeSoto Firesweep 2 dr ht
1958 Plymouth Belvedere 2 dr ht
1968 Plymouth Fury III
And this is the testimony: God has given us eternal life, and this life is in His Son. He who has the Son has life, he who does not have the Son of God does not have life.
1 John 5:11-12