DevilsRide wrote:

1958PlymouthFuryChristine wrote:

Awesome Brian!  
She looks really tough!  And very nice!


Thanks Jackie!  Its a tough one and she really Gooooooos! Vroooom! When its running it shakes everything around it. I guess I went a bit over board for that little mustang.


Brian.
You're very welcome Brian!

Yeah I bet she does really, Go!

Yeah, I can believe that when it's running it shakes everything around it.

Bet she makes the cops real happy too!

It's the same way with one of my dad's cars- it shakes everything around it when it's running. Even shakes things inside the house since it's parked right beside the house. Sounds like the whole house is undergoing an earthquake!

The car is a 1967 Chevy Chevelle SS with a 396 big block with a 4 speed. The 396 is hopped up a lot too- has a big lopedy-lope racing cam and other go-fast loud engine goodies.

 Doesn't have a blower on it though- my dad didn't want to cut the SS hood...
Photos of my dad's Chevelle:
The motor:
The car: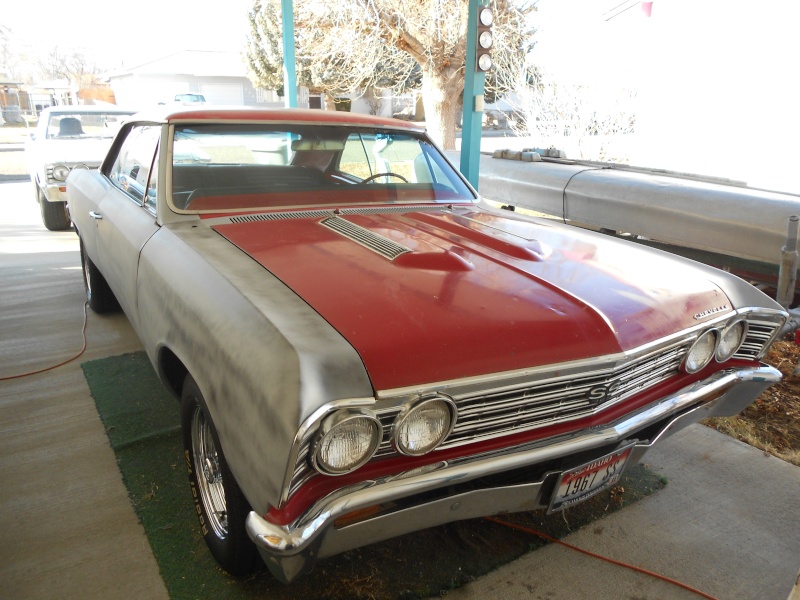 These are the most current photos I have of the car. So, as you can see she's still in primer. My dad's sanding and priming (blocking) to make the car straight. Original color is red, on the dashboard, hood, and roof. Originally was this color red with a black vinyl top. Going back to original.

So anyhow, you have a real nice Mustang Brian.

No, you didn't go overboard with your Mustang Brian!

 I think it's fun to hop-up a muscle car like your Mustang so that you can have even more fun with it!

That's the fun with owning muscle cars and classics- where you can hop them up with more horsepower, and make them loud and fast!

By the way, what year is she and what motor does she have in her? Just curious...